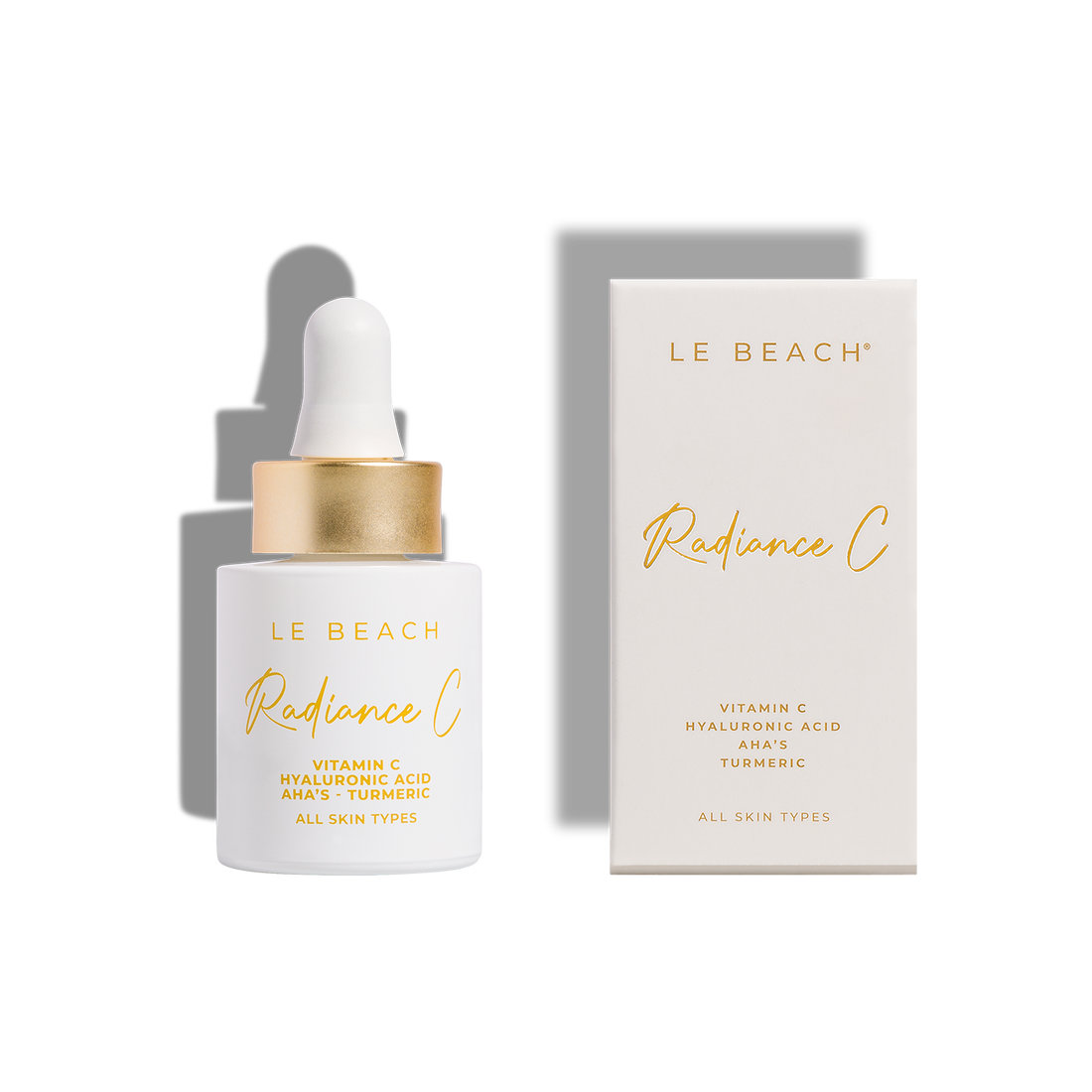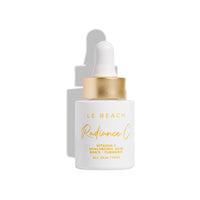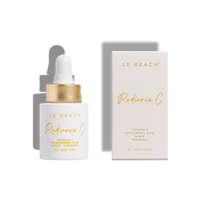 NEW! Radiance C Daily Vitamin Boost
Radiance C: Your Daily Vitamin Boost for Healthy, Youthful Skin.
15ml

Unlock the secret to radiant skin with Radiance C, a powerful daily vitamin boost suitable for all skin types. Our expertly formulated blend combines potent ingredients such as:
- Vitamin C
- Hyaluronic Acid
- Turmeric
- Natural fruit-mix of Alpha Hydroxy Acids (AHA's)
Vitamin C
Brightens and Protects
Vitamin C helps brighten your complexion by reducing the appearance of dark spots and hyperpigmentation.
Boosts Collagen Production
Collagen is essential for keeping your skin looking youthful and firm.
Fights Aging
Vitamin C helps reduce the appearance of fine lines and wrinkles & helps soothe and calm inflamed or irritated skin.
Hyaluronic Acid
Boosts Hydration
Hyaluronic acid can hold up to 1000 times its weight in water, making it a powerful hydrating agent. It helps plump up the skin, reducing the appearance of fine lines and wrinkles.
Improves Elasticity
Hyaluronic acid is a natural substance found in the skin that helps lock in moisture. It hydrates the skin, helps improve skin elasticity, making it feel more resilient and firm.
Turmeric
A powerful anti-inflammatory agent that has been used for centuries in traditional medicine. Turmeric helps reduce inflammation in the skin, suppressing redness and irritation. This makes it an effective treatment for conditions like acne, eczema, and psoriasis.
Promotes Healing
Turmeric contains curcumin, a powerful antioxidant that helps promote healing in the skin. It helps repair damaged skin cells, reducing the appearance of scars and blemishes.
A unique combination of botanical extracts that deliver five natural AHA's directly to your skin. These include lactic acid sourced from blueberries, glycolic acid extracted from sugarcane, citric acid derived from oranges and lemons, and malic and tartaric acids found in sugar maple. These AHA's work together harmoniously to rejuvenate your skin.

With these power of alpha hydroxy acids, peptides, and essential vitamins, Radiance C helps prevent premature aging and stimulates collagen synthesis, resulting in a more youthful, healthy, and truly radiant complexion. Experience the transformative effects of Radiance C and unveil your skin's natural glow.
Bottle is custom-made with UV-protection to protect the product from UV degradation.
99% Natural
Microplastic Free
Antioxidant
pH 5-6
Apply Radiance C to clean skin in the morning & evening. Continue with the rest of your skincare routine.
AQUA (WATER), GLYCERIN, CAPRYLYL/CAPRYL GLUCOSIDE, GLYCINE SOJA OIL, CAPRYLYL GLYCOL, PANTHENOL, SODIUM HYALURONATE, MICA, ETHYLHEXYLGLYCERIN, VACCINIUM MYRTILLUS FRUIT/LEAF EXTRACT, CI 77891, SACCHARUM OFFICINARUM EXTRACT, TOCOPHERYL ACETATE, XANTHAN GUM, SODIUM HYDROXIDE, ACER SACCHARUM EXTRACT, CITRIC ACID, CURCUMA LONGA ROOT EXTRACT, SODIUM ASCORBYL PHOSPHATE, CITRUS AURANTIUM DULCIS FLOWER EXTRACT, CITRUS LIMON FRUIT EXTRACT, PHYTIC ACID, HONOKIOL, MAGNOLOL, SODIUM HYDROXIDE ACER SACCHARUM EXTRACT, CITRIC ACID, PARFUM, CI 77491, SODIUM BENZOATE, POTASSIUM SORBATE

99% Natural
Microplastic Free
Antioxidant
pH 5-6