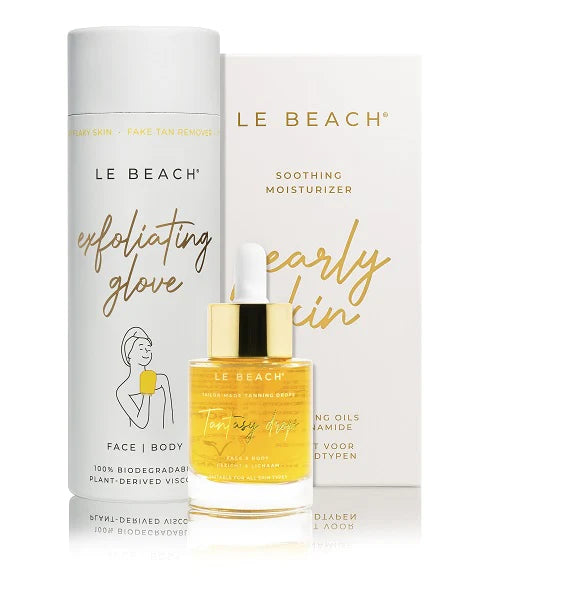 NEW! LE BEACH All About Tan Pack
NEW! LE BEACH All About Tan Pack
This All About Tan Pack from LE BEACH contains;
1 x Tantasy Drops 50ML 
1 x Pearly Skin and
1 x Exfoliant Glove
Tantasy drops 
Simply add a few drops to your face cream or body lotion et voila: it looks like you're just coming back from a beach holiday. Tantasy Drops provide a sunkissed tan all year round without the harmful influences of the sun. A clever blend of DHA and Erythrulose Tantasy Drops is more natural, as combination of DHA/Erythrulose tan is a slightly different tonality than DHA alone. It can add a warmer tone to the final sunless tan.
Adding Aloe Barbadensis leaf extract (Aloe Vera) provides a multitude of skin benefits, from flare-up in eczema to sunburn and small abrasions
Aloe Vera contains antibacterial and collagen boosting properties. After application you will find the skin is left moisturised and nourished. The anti-inflammatory properties reduces the appearance of blemishes and calming flare-ups which are a result of drying skin conditions such as eczema and psoriasis.
98.7% Natural
Vegan
Handmade
Exfoliant glove
Next generation LE BEACH Exfoliating Glove has a double layer and is much more comfortable to use.
Made with 200D thread count for best results.
LE BEACH Exfoliating Glove is your most durable & luxurious with perfect thread-count glove ever! Designed to be used wet or dry for all skin types.
-Removes dead, dry skin
-Prevents ingrown hairs
-Improves blood circulation
-Fights Keratosis Pilaris (also called 'chicken skin')
-Helps remove self-tanner buildup
- Provides silky smooth skin
-Reduces pimples
Tip: Do you wish the best and fastest remove self-tanner and/or spray tan? Use LE BEACH Exfoliating Glove together Sugar Skin Polish to gently exfoliate your skin, let the Sugar Skin Polish work on your skin for a while and then rinse. 
Pearly Skin

Luxurious lightweight moisturizer. LE BEACH Pearly Skin is inspired by the luminous properties of pearl. Deliciously scented with LE BEACH signature tropical fragrance with a hint of lime, formulated with Niacinamide, Olive Oil and Apricot Oil among others will leave your skin silky smooth and Glowing.

Pearly Skin made with vitamin-rich oils & Niacinamide, is a luxurious daily moisturizer that hydrates, regenerates and protects all skin types from the drying effects of the environment .
Skin is soothed, nourished without feeling greasy.

Pearly Skin is soft & light, it is therefore also suitable for the face.

98.7% Natural
Vegan
Handmade

Key ingredients;
OLIVE OIL contains mainly unsaturated fatty acids, antioxidant flavonoids and oleuropeins that help protect skin cells, control the aging process and promote collagen production.
PRUNUS ARMENIACA (ABRIKOOS) OIL contains antioxidant vitamin E and nourishing fatty acids. has nourishing and moisturizing properties (as an oil-rich oil, it is ideal for dry skin types) and is quite easily absorbed into the skin.
NIACINAMIDE or also called vitamin B3, is an ingredient that has been shown to improve skin appearance and health. Niacinamide you already get some of it through your diet, but your body does not store it all. So it's not wrong to give your skin a hand with this by applying a cream with niacinamide, for example.

TIP: Use with Tantasy Drops for a perfect flawless sunkissed skin with glowing effect.

Cruelty free, Certified Vegan, No colorant, No GMOs.
Refer to the ingredient list of each product individually to review.