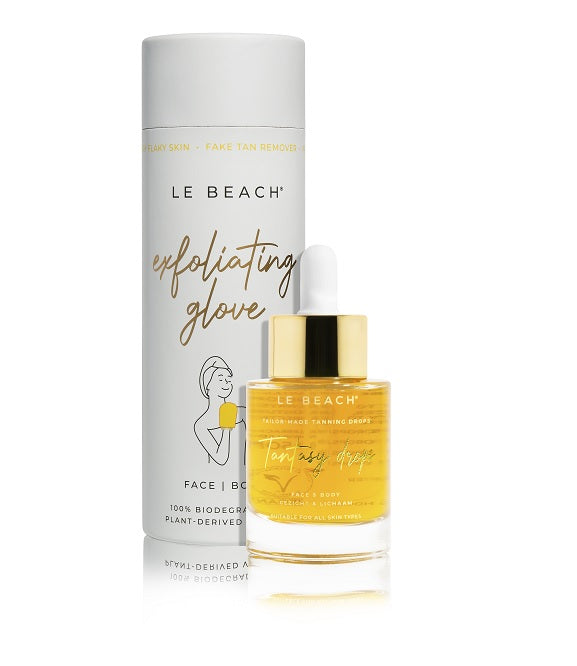 NEW! LE BEACH Essential Tan Pack
NEW! LE BEACH Essential Tan Pack
This Essential Tan Pack from LE BEACH contains;
1 x Tantasy Drops 50ML and
1 x Exfoliant glove
Tantasy drops 
Simply add a few drops to your face cream or body lotion et voila: it looks like you're just coming back from a beach holiday. Tantasy Drops provide a sunkissed tan all year round without the harmful influences of the sun. A clever blend of DHA and Erythrulose Tantasy Drops is more natural, as combination of DHA/Erythrulose tan is a slightly different tonality than DHA alone. It can add a warmer tone to the final sunless tan.
Adding Aloe Barbadensis leaf extract (Aloe Vera) provides a multitude of skin benefits, from flare-up in eczema to sunburn and small abrasions
Aloe Vera contains antibacterial and collagen boosting properties. After application you will find the skin is left moisturised and nourished. The anti-inflammatory properties reduces the appearance of blemishes and calming flare-ups which are a result of drying skin conditions such as eczema and psoriasis.
97,8% Natural
Vegan
Handmade
Exfoliant glove
Next generation LE BEACH Exfoliating Glove has a double layer and is much more comfortable to use.
Made with 200D thread count for best results.
LE BEACH Exfoliating Glove is your most durable & luxurious with perfect thread-count glove ever! Designed to be used wet or dry for all skin types.
-Removes dead, dry skin
-Prevents ingrown hairs
-Improves blood circulation
-Fights Keratosis Pilaris (also called 'chicken skin')
-Helps remove self-tanner buildup
- Provides silky smooth skin
-Reduces pimples
Tip: Wish you the best and fastest remove self-tanner and/or spray tan? Use LE BEACH Exfoliating Glove together Sugar Skin Polish to gently exfoliate your skin, let the Sugar Skin Polish work on your skin for a while and then rinse. 
Refer to the ingredient list of each product individually to review.